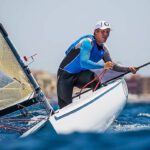 Oskari Muhonen from Finland is just one day away from his record breaking third Finn Silver Cup win, his third junior world championship title!
We are very proud on his success. Oskari's boat is powered by Pata Carbon mast. We are working together closely with Oskari on the development. He is a great sailor and a great partner in these works.
He is the only sailor in the U23 fleet powered by Pata Mast.
We are ready to build a perfect mast for you as well. Do not hesitate to contact us. Let's work together on your speed!